Classic beef chili is a comforting and satisfying dish, perfect for warming up on a chilly day or for a gathering with friends and family. Its rich, savory flavors and versatility make it a timeless favorite.
Why Everyone Loves Chili
There's something undeniably comforting about a steaming bowl of chili. Its rich, savory aroma and hearty ingredients make it a staple in many households, especially during the colder months. I'm sharing a timeless recipe for classic beef chili that's bound to warm your soul. So, get ready to savor the flavors of home!
Classic beef chili is more than just a meal; it's a culinary journey that brings together a blend of flavors, textures, and traditions. This dish has remained a favorite for generations, and here's why:
Hearty Ingredients: A hearty mix of beef, beans, and tomatoes creates a satisfying and filling dish. It's perfect for family dinners, potlucks, and cozy gatherings.
Versatility: Classic beef chili is incredibly versatile. You can customize it to suit your taste by adjusting the spice level, adding different types of beans, or even incorporating unique ingredients like corn or bell peppers.
Rich Flavors: With a symphony of spices including chili powder, cumin, and paprika, classic beef chili boasts a rich and complex flavor profile that's both savory and slightly spicy.
Simple Preparation: While it simmers to perfection, you'll have time to relax or prepare other side dishes. It's a straightforward recipe that turns out every time.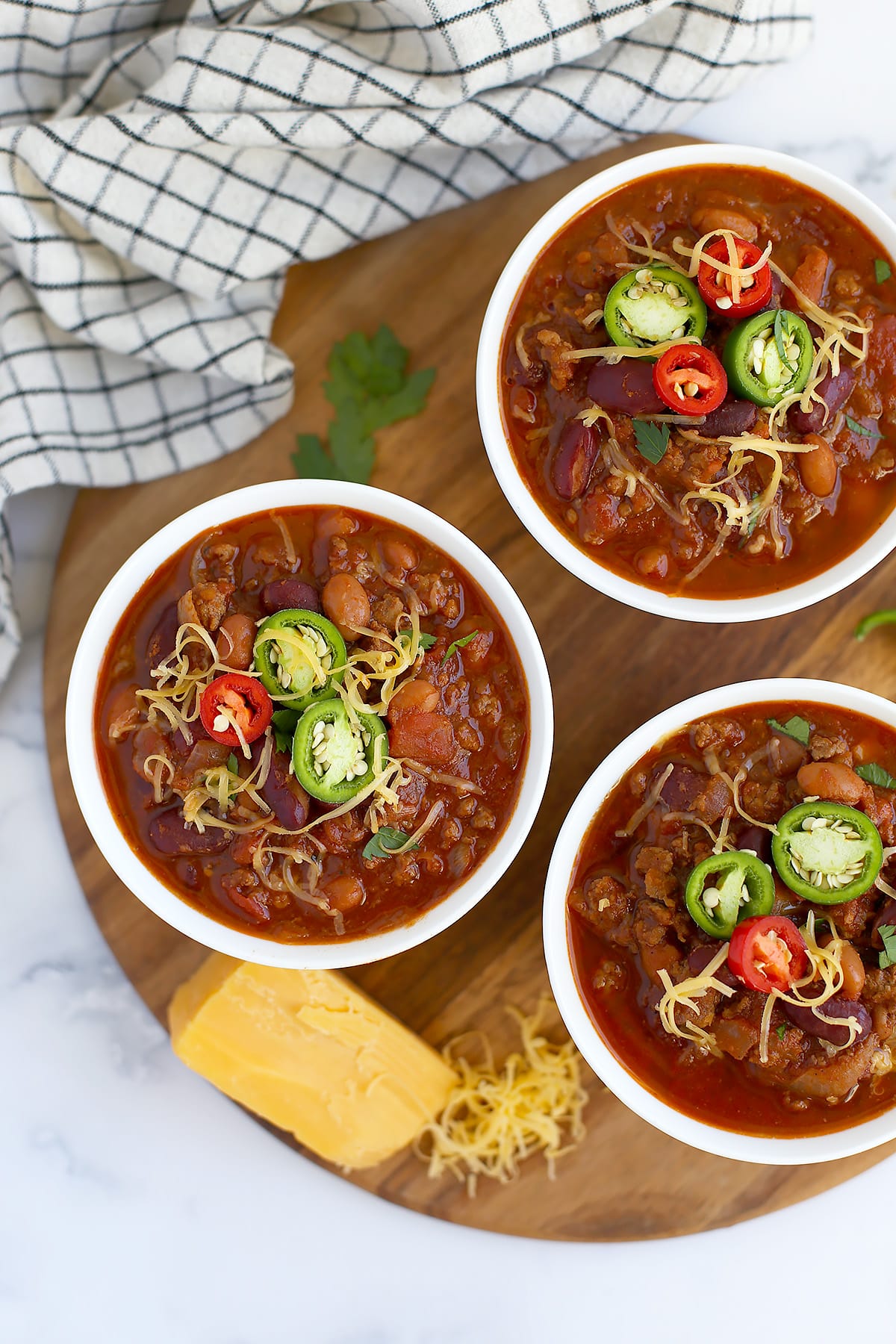 What Ingredients Do I need to Make Beef Chili
Ground beef (or cubed beef)
Red Kidney beans
Pinto Beans
Diced tomatoes
Tomato paste
Beef Broth
Onion
Garlic
Chili powder
Cumin
Paprika
Garlic Powder
Salt and pepper to taste
Molasses (optional but delicious)
How to Make Classic Beef Chili
Sauté the Aromatics: Add diced onions and minced garlic to a large pot. Sauté until the onions turn translucent.
Brown the Beef: Add the beef to the pot and brown the over medium-high heat until it's fully cooked. If using cubed beef, sear it on all sides for extra flavor.
Spice It Up: Stir in chili powder, ground cumin, paprika, garlic powder, salt, and pepper. The mixture will become fragrant as the spices toast.
Tomato Tango: Add diced tomatoes and tomato paste to the pot. Mix everything well to create the tomato base.
Simmer to Perfection: Incorporate the drained kidney and pinto beans and pour in the beef broth. Lower the heat, cover the pot, and let the chili simmer for 30 minutes up to 2 hours depending on how much time you have and how thick you like your chili. Stir occasionally.
Taste and Adjust: Taste your classic beef chili and adjust the seasoning if needed. You can add more spices, salt, or pepper according to your preferences.
Serving Time: Serve warm with your favorite chili toppings: sour cream or Greek yogurt, grated cheese, crumbled queso fresco, green onions, corn chips, chopped cilantro, chopped avocado, and jalapeno rings. Enjoy!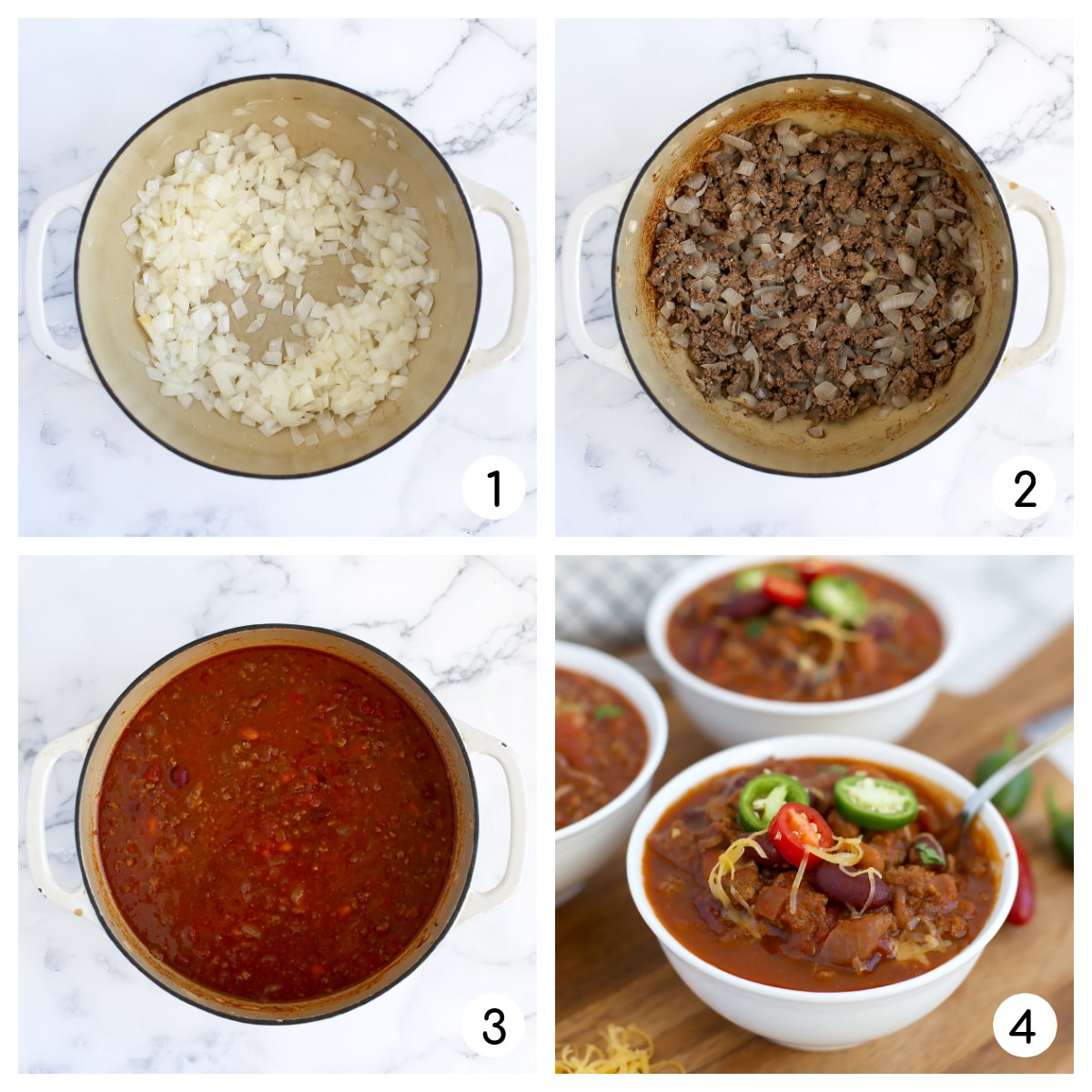 Tips for Making Beef Chili
Choose the Right Cut of Beef: If using cubed beef, opt for cuts like chuck roast or stew meat, as they become tender and flavorful during long simmering.
Ground beef is a convenient option, and you can choose lean or medium-fat ground beef depending on your preference.
Use a Variety of Beans: A combination of beans, such as kidney beans, pinto beans, and black beans, adds depth and variety to the texture of your chili.
Spice It Right: Customize the level of spiciness to your liking by adjusting the amount of chili powder. Start with a moderate amount and add more if needed. For a smoky undertone, consider adding smoked paprika to your spice mix.
Low and Slow Cooking: The key to developing rich flavors in classic beef chili is to simmer it low and slow for an extended period. Aim for at least an hour, but two hours or more is even better.
Batch Cooking: Classic beef chili often tastes even better the next day as the flavors continue to meld. Consider making a large batch and reheating it for an easy and satisfying meal.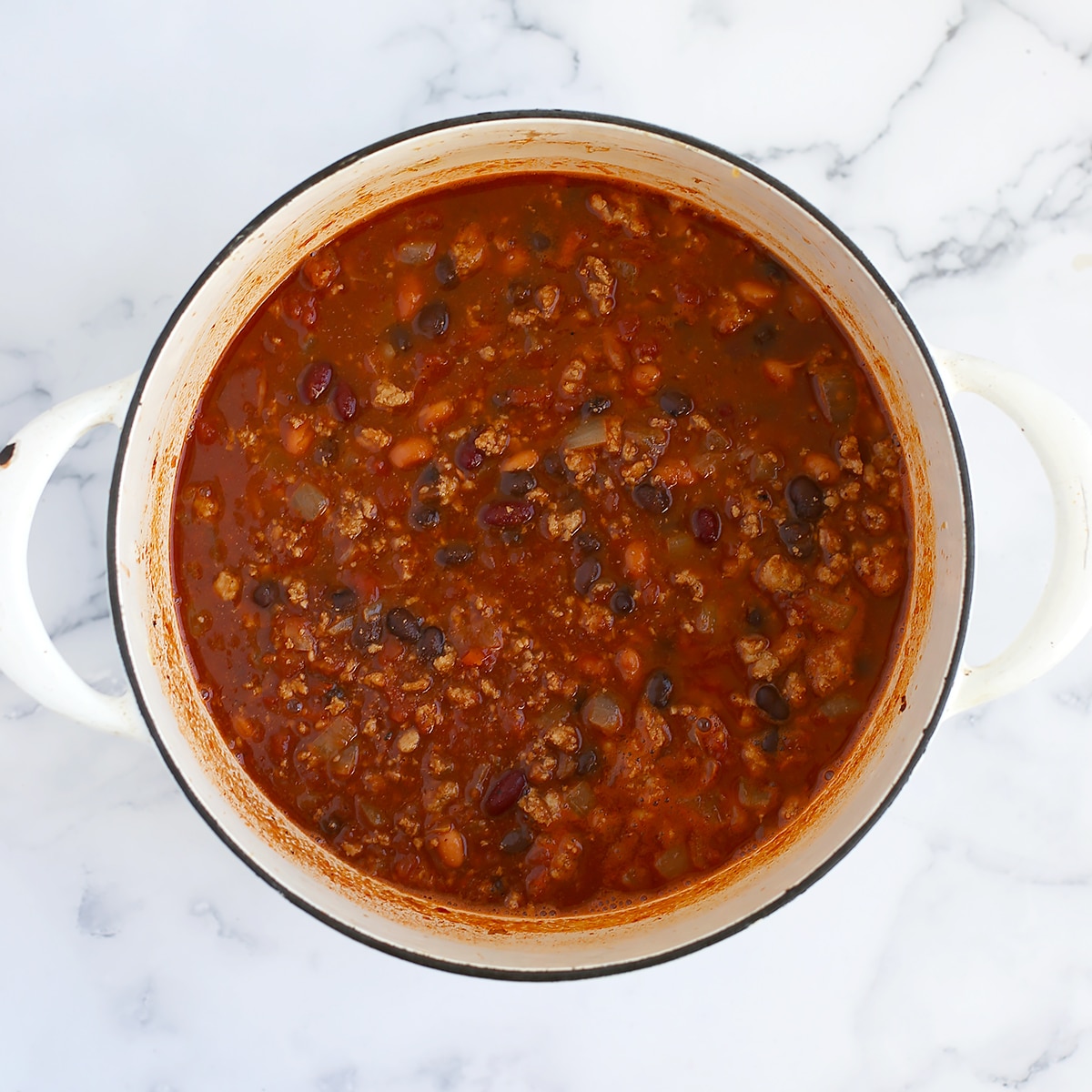 What are Sides to Serve with Chili?
Cornbread: Cornbread is a classic choice and pairs perfectly with chili. You can serve it as slices, muffins, or even in the form of cornbread sticks. This is our FAVORITE cornbread recipe.
Tortilla Chips: Offer a basket of tortilla chips for scooping up chili. You can also add a variety of dips like guacamole, salsa, or queso for an extra kick.
Fritos or Corn Chips: Fritos, corn chips, or corn chips like Doritos add a nice crunch to your chili. They're often used for Frito pie, where you place chili on top of a bed of chips.
Baked Potatoes: Baked potatoes make a hearty side. Top them with chili, cheese, sour cream, and chives for a satisfying meal.
Avocado Salad: A simple avocado salad with tomatoes, red onion, cilantro, and a lime vinaigrette adds a fresh and zesty element to your chili meal.
Garlic Bread: A warm, buttery slice of garlic bread complements chili nicely, and you can use it to scoop up any leftover sauce.
Side Salad: A simple garden salad with fresh greens, cherry tomatoes, cucumbers, and a vinaigrette dressing provides a light and refreshing contrast to the chili.
Our Favorite Chili Toppings
Diced Avocado: Fresh diced avocado can add a creamy, buttery texture that complements the chili's spiciness.
Homemade Guacamole: Whip up a batch of homemade guacamole with ripe avocados, onions, tomatoes, lime juice, and cilantro. It's a delightful dip for tortilla chips or a topping for chili.
Sour Cream: A dollop of sour cream on top of your chili can help mellow the spiciness and add a creamy element.
Chopped Green Onions or Scallions: Sprinkle chopped green onions or scallions on top of your chili for a burst of freshness and color.
Shredded Cheese: Offer a variety of shredded cheese, such as cheddar, Monterey Jack, or pepper jack, for people to sprinkle over their chili.
Chopped Cilantro: Fresh cilantro leaves can be used as a garnish to add a pop of herbaceous flavor.
Sliced Jalapeños: For those who like an extra kick, sliced jalapeños can be served as a topping or on the side.
Pickled Red Onions: Tangy pickled red onions can add a zesty and crunchy element to your chili.
What to Do with Leftover Chili
Chili Tacos: Warm up your chili and use it as a taco filling. Add some shredded lettuce, diced tomatoes, and a dollop of sour cream for a Tex-Mex twist.
Chili Baked Potatoes: Serve leftover chili over baked potatoes, and garnish with shredded cheese, sour cream, and chives.
Chili Nachos: Create a mouthwatering plate of nachos by layering tortilla chips with leftover chili, shredded cheese, jalapeños, and your favorite toppings. Bake in the oven until the cheese is melted.
Chili Quesadillas: Make quesadillas by spreading leftover chili between two tortillas along with cheese. Cook until the tortillas are crispy and the cheese is melted.
Chili Omelet: Whip up a chili omelet by folding leftover chili into beaten eggs. Top it with cheese and cook until the eggs are set.
Chili-Stuffed Peppers: Hollow out bell peppers and stuff them with reheated chili. Bake until the peppers are tender and serve with a sprinkle of cheese on top.
Chili and Rice: Mix your leftover chili with cooked rice for a quick and hearty meal.
Chili Mac and Cheese: Combine your chili with cooked macaroni and cheese for a comforting and cheesy dish.
Chili Casserole: Combine leftover chili with cooked pasta, top it with cheese, and bake it in the oven for a chili casserole.
Freeze for Later: If you can't use the leftover chili right away, freeze it in an airtight container for a quick and easy meal in the future. This chili freezes well for up to 3 months.
Classic Beef Chili Recipe
Classic beef chili is a comforting and satisfying dish, perfect for warming up on a chilly day or for a gathering with friends and family. Its rich, savory flavors and versatility make it a timeless favorite.
Servings: 6
Calories: 309kcal
Add oil to a large pot and heat over medium high. Add the diced onions and saute until softened, 3-5 minutes. Add garlic and cook for another minute.

Add ground beef and break up with a meat chopper or spatula. Cook until mostly browned. If using less than 90% lean ground beef, drain the fat off.

Add the chili powder, cumin, paprika, garlic powder, salt and pepper and stir to combine. Let cook for 1-2 minutes to release the flavors.

Stir in the beans, crushed tomatoes, tomato paste, beef broth and molasses if using. The molasses adds a richness to the chili and is truly a secret ingredient! Bring to a boil and then reduce the heat to low and simmer covered for 30 minutes up to 2 hours depending on how thick you like your chili.

Serve warm with your favorite chili toppings: sour cream or Greek yogurt, grated cheese, crumbled queso fresco, green onions, corn chips, chopped cilantro, chopped avocado, and jalapeno rings. Enjoy!
Storing
Store in an airtight container in the fridge for 3-5 days or in a freezer safe container for up to 3 months.

When you are ready to reheat, place frozen chili in the fridge for 24 hours and then add to a pot on the stove. If the chili is too thick, add water or chicken broth to reach your desired consistency.
Calories: 309kcal | Carbohydrates: 40g | Protein: 28g | Fat: 6g | Saturated Fat: 2g | Polyunsaturated Fat: 1g | Monounsaturated Fat: 2g | Trans Fat: 0.3g | Cholesterol: 47mg | Sodium: 1415mg | Potassium: 1348mg | Fiber: 12g | Sugar: 13g | Vitamin A: 1420IU | Vitamin C: 17mg | Calcium: 147mg | Iron: 7mg
www.superhealthykids.com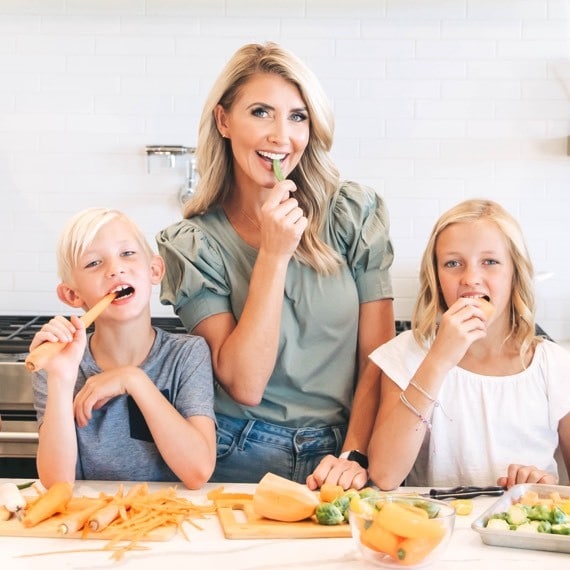 Natalie Monson
I'm a registered dietitian, mom of 4, avid lover of food and strong promoter of healthy habits. Here you will find lots of delicious recipes full of fruits and veggies, tips for getting your kids to eat better and become intuitive eaters and lots of resources for feeding your family.