This fantastic Lentil Soup is easy, healthy, and so flavorful! The simple pantry ingredients come together quickly on the stovetop to make a delicious and economical weeknight meal.
Hearty and Nutritious Lentil Soup
I'm really a sucker for soup… It's such a deliciously cozy food. It's also easy to make, generally nutritious, full of flavor, and makes fantastic leftovers. Needless to say, I make a lot of soup. And this Hearty Lentil Soup checks all of the criteria for a really good soup.
My version is straightforward and simple, but it simmers into a thick and hearty and incredibly flavorful dish that is so satisfying. I love that it uses veggies that I always have on hand, and basic pantry staples. It's incredibly economical, and yields a nice sized batch that freezes great and makes delicious leftovers. It's also filling, healthy, and straight up delicious. If you're not already making lentil soup on a regular basis, here is my reminder that it exists. And that you should absolutely be making it.
Ingredients Needed to Make this Hearty Lentil Soup
Lentils
Onion
Carrots
Celery
Garlic
Crushed Tomatoes
Tomato Paste
Olive Oil
Chicken or Vegetable Broth
Cumin
Paprika
Salt & Pepper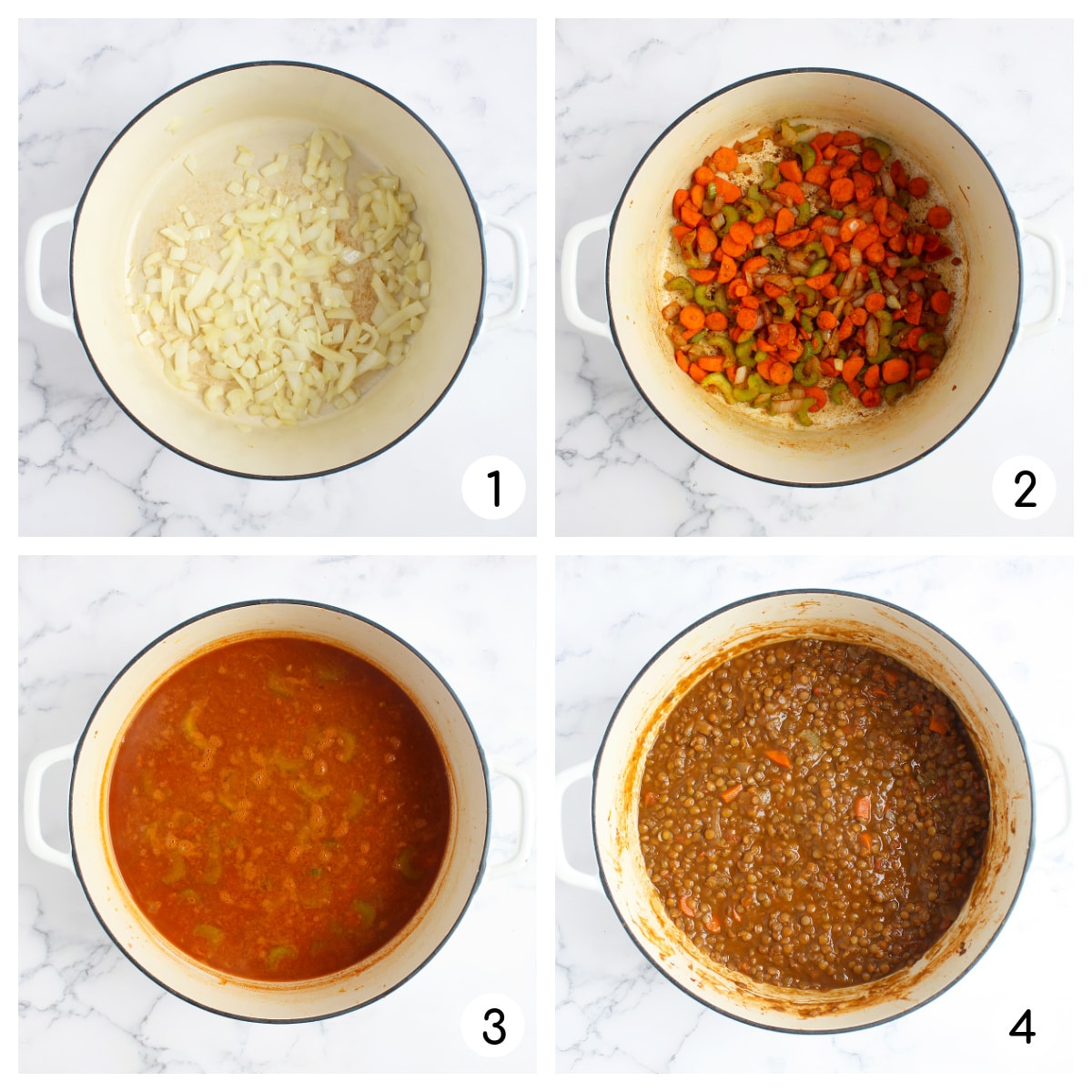 How to Make Hearty Lentil Soup
Saute the veggies. In a large pot over medium heat, cook the diced onion, carrot, celery and garlic in olive oil until the vegetables have softened. Add the seasonings and cook for another minute or two.
Add the rest of the soup ingredients. Add the lentils, tomatoes, chicken broth. Stir to combine.
Simmer away. Bring to a boil, then reduce to low heat and simmer for 30-40 minutes or until the lentils are softened to your liking.
Check for consistency. If you prefer a thinner soup, add some additional chicken broth. If you prefer a thicker consistency, use an immersion blender and give it a couple pulses. Or, you can put about a cup of the soup into a blender and give it a whirl.
Serve. If desired, add the juice of a lemon or a splash of red wine vinegar to the soup- the acid adds a nice bright flavor to your finishing soup. Season with salt and pepper or additional spices to taste. Enjoy!
Tips & Suggestions
What type of lentils should I use for lentil soup?
Brown Lentils: This is the most common variety.  If you see these in the grocery store and the package just says 'lentils' it is most likely brown lentils.  They have a mild earthy flavor.   These work well in soups, stews, and veggie burgers.
Green Lentils: These are similar to brown lentils but have more flavor – slightly peppery.  They retain their shape well and with their stronger flavor they are good in salads and side dishes.
Red Lentils and Yellow Lentils:  These come in a range of colors and are sold 'split' which is smaller pieces of lentils.  They are sweet and nutty and are common in Indian and middle Eastern dishes.  Because they are split and break down more than other lentils, they are really good in soups and stews, and casseroles and can act as a thickener.   These cook faster than brown and green lentils and so should be added when there is 15-30 minutes left in the cooking time.
Specialty Lentils: These are typically a lot smaller than other types of lentils.  They have an earthy flavor and are very beautiful and so are a great base for salads or as a side dish with a protein
Do you have to soak lentils before cooking them?
Lentils come in both canned and dried.  The canned version is great if you need a quick side dish or salad.  If you are making lentil soup or stew, you will definitely want to use the dried version.  You don't need to soak lentils before cooking them, but you will want to rinse them.  Dried lentils can cook in less than an hour.  They don't need to absorb all of the cooking liquid like rice.  You may want to test them during the cooking process to determine how you like them cooked.
Are Lentils Healthy?
Lentils are packed with fiber, protein, folate and vitamins and minerals.  They are an easy, affordable ingredient to add to lots of different types of meals.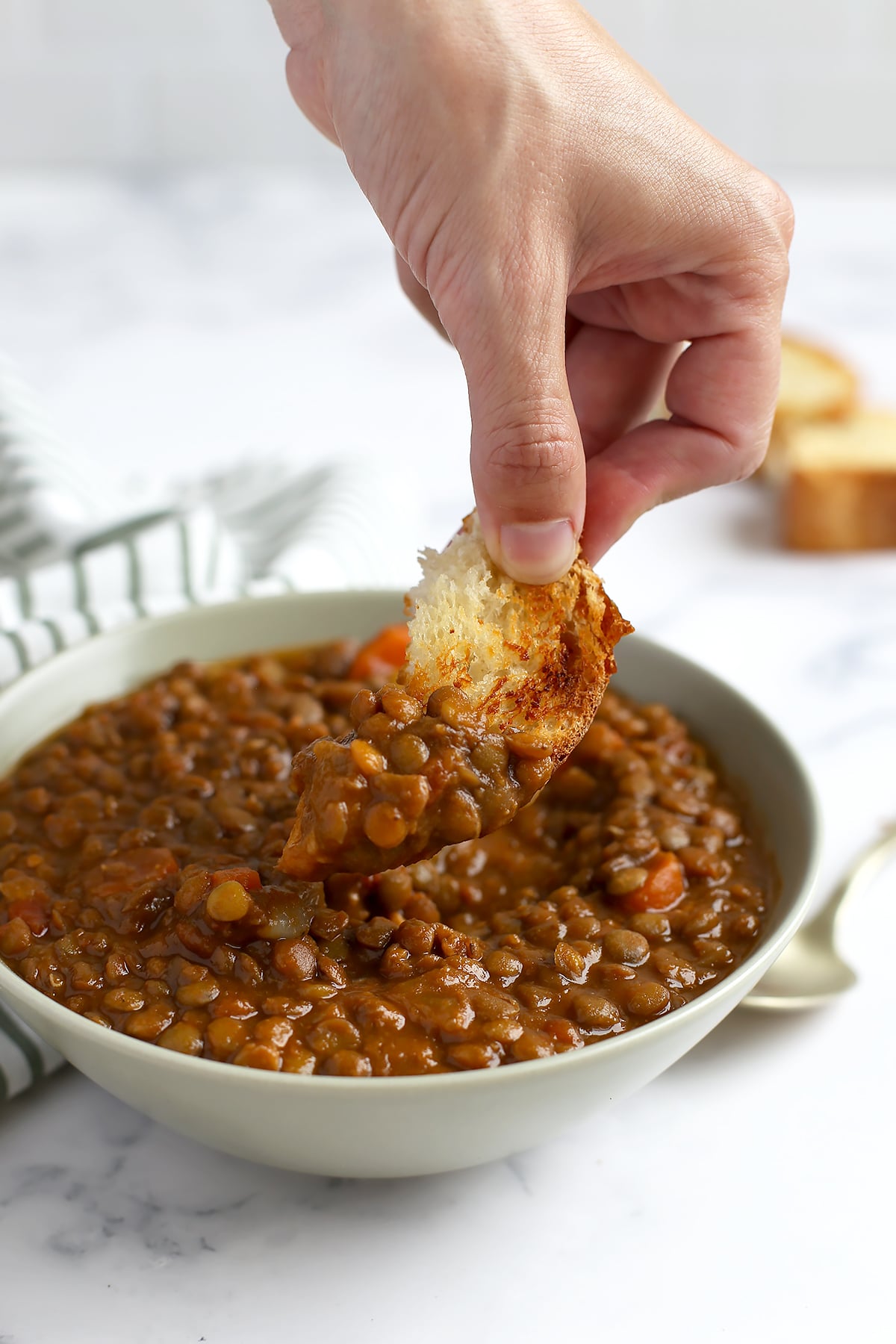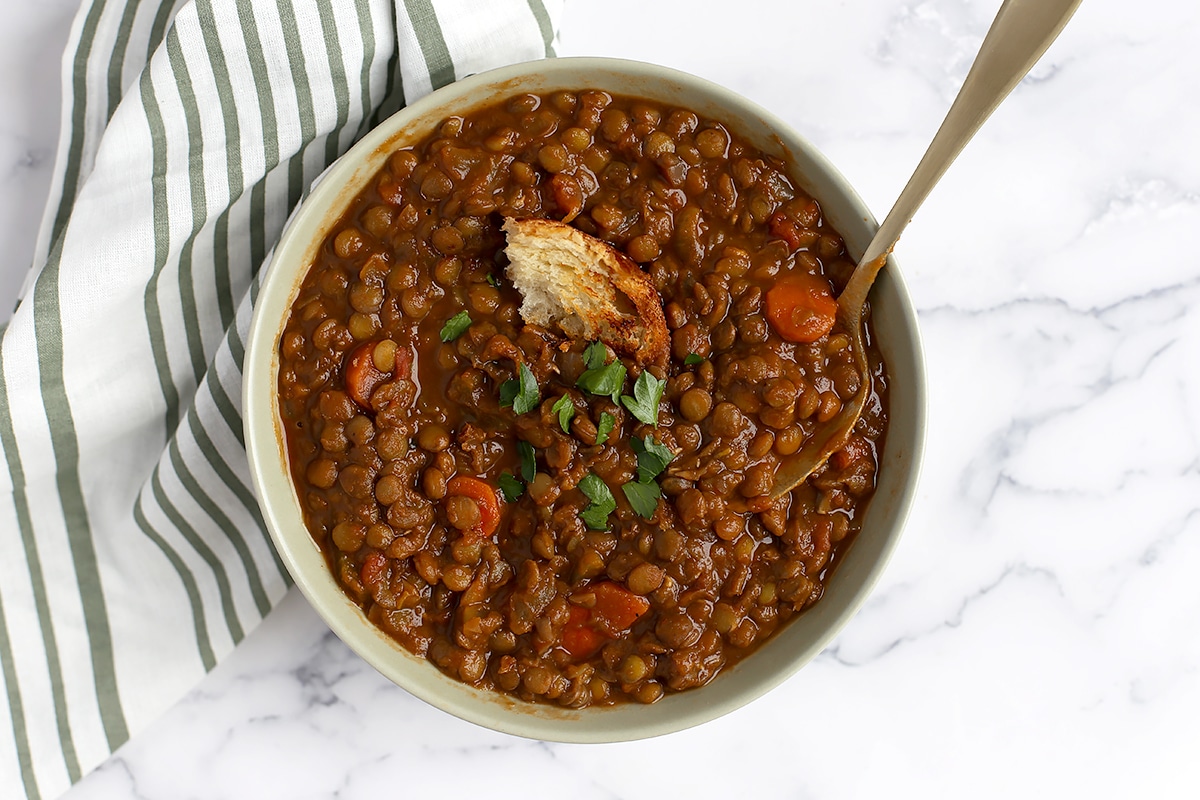 More Delicious Lentil Recipes:
Hearty Lentil Soup
This fantastic Lentil Soup is easy, healthy, and so flavorful! The simple pantry ingredients come together quickly on the stovetop to make a delicious and economical weeknight meal.
Servings: 8 servings
Calories: 189kcal
Dice onion, carrots, and celery.

Place a large pot over medium-high heat. When the pan is hot, add the oil and swirl to coat the pan. Add the diced onions and saute for 3-5 minutes until they begin to soften. Add the garlic, carrots and celery and saute for another 8-10 minutes until they have softened.

Add the cumin, paprika, salt and pepper and cook for another 1-2 minutes until it becomes fragrant.

Add the lentils, 6 cups of broth, crushed tomatoes and tomato paste. Bring to a boil, then turn the heat all the way down to the lowest possible setting. Partially cover, and simmer gently for 30-40 minutes, or until the lentils are completely soft. If the soup is too thick for your liking, just add another 1-2 cups of broth and stir to combine.

If you want a thicker soup, you can either use an immersion blender to give it a few quick blends or remove 1 cup of the soup, and blend in a blender then return to the pot.

Add the lemon juice and zest of a lemon for a delicious bright flavor. Serve warm with crusty bread and enjoy!
Calories: 189kcal | Carbohydrates: 32g | Protein: 12g | Fat: 2g | Saturated Fat: 0.3g | Polyunsaturated Fat: 0.5g | Monounsaturated Fat: 1g | Sodium: 264mg | Potassium: 639mg | Fiber: 14g | Sugar: 6g | Vitamin A: 2902IU | Vitamin C: 10mg | Calcium: 56mg | Iron: 4mg
www.superhealthykids.com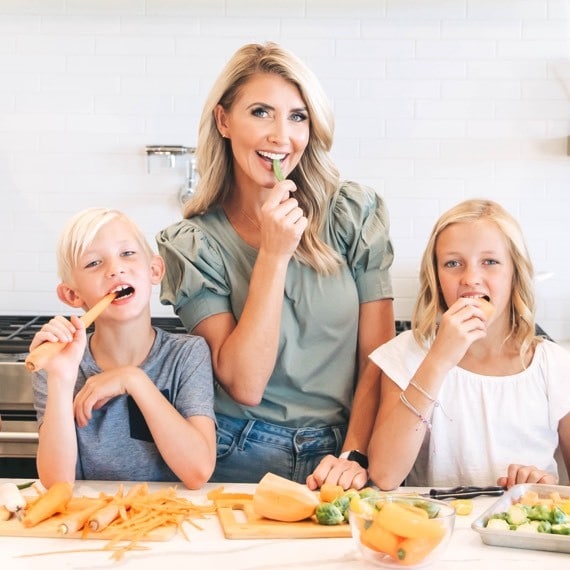 Natalie Monson
I'm a registered dietitian, mom of 4, avid lover of food and strong promoter of healthy habits. Here you will find lots of delicious recipes full of fruits and veggies, tips for getting your kids to eat better and become intuitive eaters and lots of resources for feeding your family.